Pinterest Growth Strongest in Non-US Markets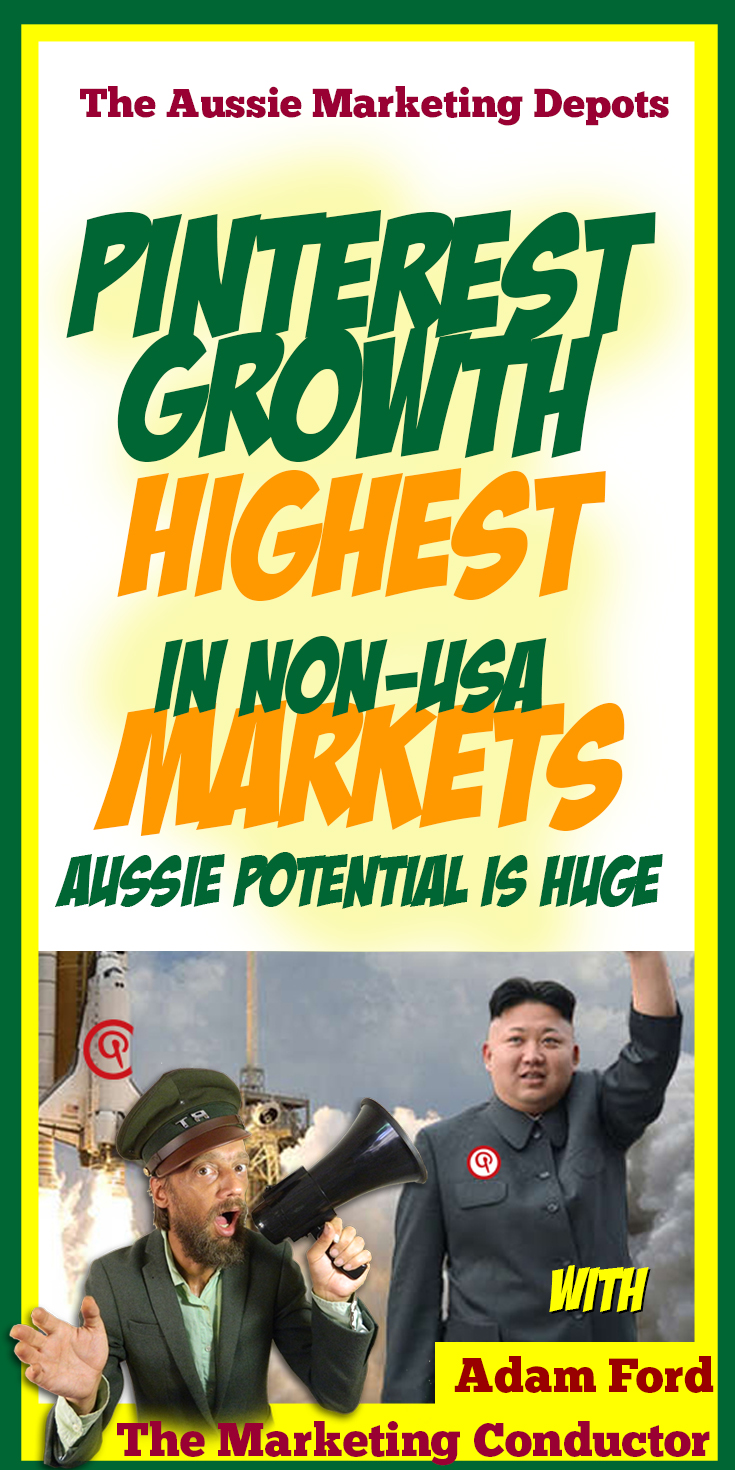 Pinterest shows huge potential upside in 2018 for Australian brands.
By Adam Ford
Pinterest, Social Media Marketing
October 10, 2017
Pinterest recently released some interesting new data on the visual search platform's user base.
We remarked recently here at Pinning Up from Down Under about what a damn Yankee-Doodle accent the platform tends to speak with.
And the data backs this up, revealing that fully 50% of Pinterest's users are based in the United States at present, but the rest of the world is quickly catching the Pinterest bug.
The same data shows 75% of NEW signups to the platform are now from non-US markets.
America Highlights Pinterest's Potential
Pinterest has become a YUUUGE driver of traffic to North American niche blog and ecommerce sites. Female bloggers in particular have flocked to the platform and built huge audiences there, and it's proven a great platform for many to supplement their income with affiliate promotion links.
Where Pinterest was experiencing exponential user growth earlier in the decade, the pace appears to have slowed recently as the platform has approached saturation point in the US. Pinterest is now clearly looking to new markets for the next phase of its expansion.
The data in the table above is FORECAST from 2016. Pinterest have just reported their actual growth figure for the past year at around 20%, so it does appear as if the rest of the world is moving in to cover the decline in new North American signups.
At this stage, "Buyable Pins", which allow users to purchase your products ON THE PLATFORM remain confined to ecommerce vendors with a US address and who invoice in US dollars.
Australian Shopify users in particular should be warned - Shopify does NOT inform you that you require a US address before you can waste a lot of time getting your buyable pins application set up. Do not bother adding Pinterest as a Shopify sales channel if you are in Australia until further notice, even if you are invoicing in US dollars.
But as Pinterest has steadily rolled its ads platform out now globally, and where buyable pins are really nothing more than a specific rich pin setup, which pull live product data from your ecommerce site, Rattling Tram believes the only thing stopping Pinterest is hiring the necessary staff to vet all those new ecommerce sites.
Australia in Particular Shows Huge Upside
At Pinning Up from Down Under, we have done some general crunching of some survey data to look at how the Australian landscape compares. Worldwide, Pinterest is globally the number six social media platform in daily popularity, but in Australia the platform ranks eighth, and with a significantly lower market share.
Pinterest usage rates in Australia, on our data are approximately two thirds LOWER than the global average, and appears to indicate the enormous growth potential the platform is poised for locally.
Of particular interest to social media marketers will be the relatively low Australian Twitter usage rates. As usual, we urge advertisers to approach this platform with caution. We believe this is increasingly now a platform where you must genuinely participate as a regular user in order to achieve any real success.
Advertisements quickly disappear quickly without a trace in Twitter's content-heavy news feed unless they achieve real virality, whereas your promoted pins on Pinterest will continue circulating throughout the platform, delivering return on investment even years after they were first promoted. A little ad juice on Pinterest can go a LOOOONG way.
LinkedIn, Tumblr and Flickr are all more popular platforms with Australian social media users than Pinterest at present, where globally and in the United States, Pinterest has a higher market share than all these. Google Plus was the other platform where Australian usage rates are significantly below global averages.
Of what might be described as the 'second tier' social platforms, Pinterest remains the one that is showing strongest and most consistent growth.
For Australian retailers or bloggers, and PARTICULARLY any ecommerce vendors, Pinterest remains the social media platform that you are MOST recommended to turn your attention to next. For information on Australia's first and finest Pinterest VA service, CLICK HERE.
Top Ten Social Media Platforms in Australia with Approximate Market Share, Aug 2017
1. Facebook
2. YouTube
3. Instagram
4. LinkedIn
5. Tumblr
6. Twitter
7. Flickr
8. Pinterest
9. Reddit
10. Google Plus
Source:
Social Media News
.